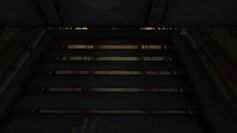 Vents are the Hunter's primary method of ambushing the player. 
If the player knows that they are being stalked by The Hunter, and hears a ventilation grill being opened while roaming the hallways, the player should take extreme caution.
Vent openings spawn on the roof in the lower and upper decks; In the upper decks they will also be on the walls. In the Engine room, the Hunter may emerge from the pipelines.